Supervisor Janice Hahn Presents $500,000 Grant to Bellflower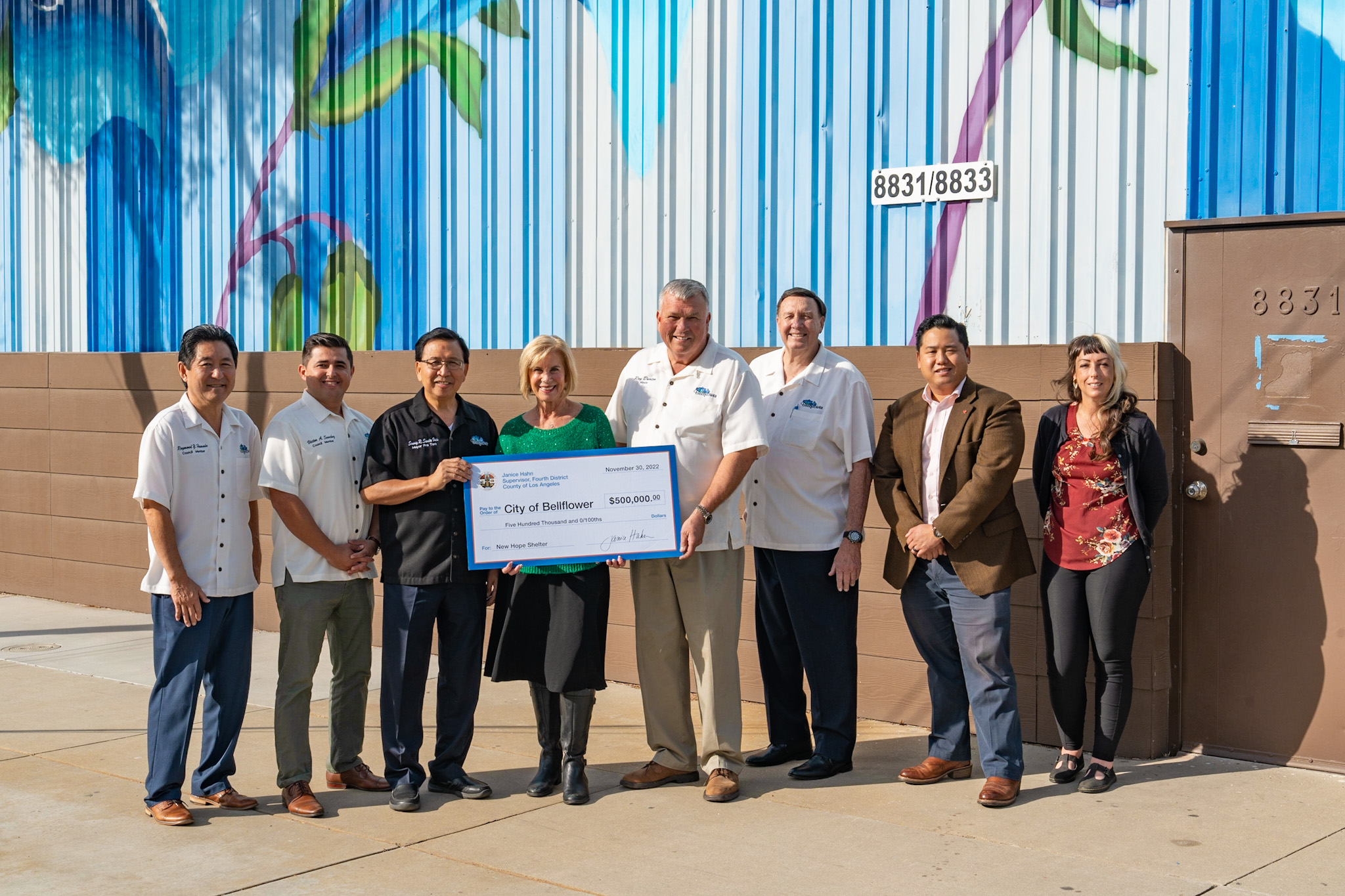 Bellflower, CA – Today, Los Angeles County Supervisor Janice Hahn presented a $500,000 check to the City of Bellflower City Council. The new funding from Hahn's office will support the city's New Hope Shelter, a 50-bed shelter providing interim housing and supportive services to individuals experiencing homelessness in the city of Bellflower.
"I have always said that any city in my district who is willing to step up to be part of the solution to the homelessness crisis can count on my support," said Hahn. "That is why I helped fund the creation of the New Hope Shelter when Bellflower leaders came to me with their plan, and it is why my office is continuing to fund its operation now. This $500,000 grant will ensure Bellflower has what it needs to keep operating this site and keep changing and saving lives."
"Thanks to LA County Supervisor Janice Hahn for the $500,000 grant for the New Hope Temporary Shelter," said Bellflower Mayor Pro Tem Sonny Santa Ines. "As the Supervisor has said, she will support any city in her district that is willing to be part of the solution to address homelessness. The City of Bellflower has a shelter and I'm really glad that the Supervisor kept her word. I'm very proud of the City of Bellflower's efforts to help address homelessness. The number of homeless persons declined significantly since the shelter opened its doors in 2020. The City's homeless population has a shelter to go to and at the same time, can enforce its ordinance against camping in public places like parks, sidewalks, etc."
New Hope is a 50-bed shelter located at 8833 Cedar Street in Bellflower that provides people experiencing homelessness in the city with housing and supportive services. Currently, the shelter provides a bed to 42 people every night on average. It is operated by Mercy House, who assists program participants with creating a housing plan, making connections to housing resources, and ending their homelessness as soon as possible. The shelter opened on May 20th, 2020.