Supervisors Back LA City Homeless Emergency Declaration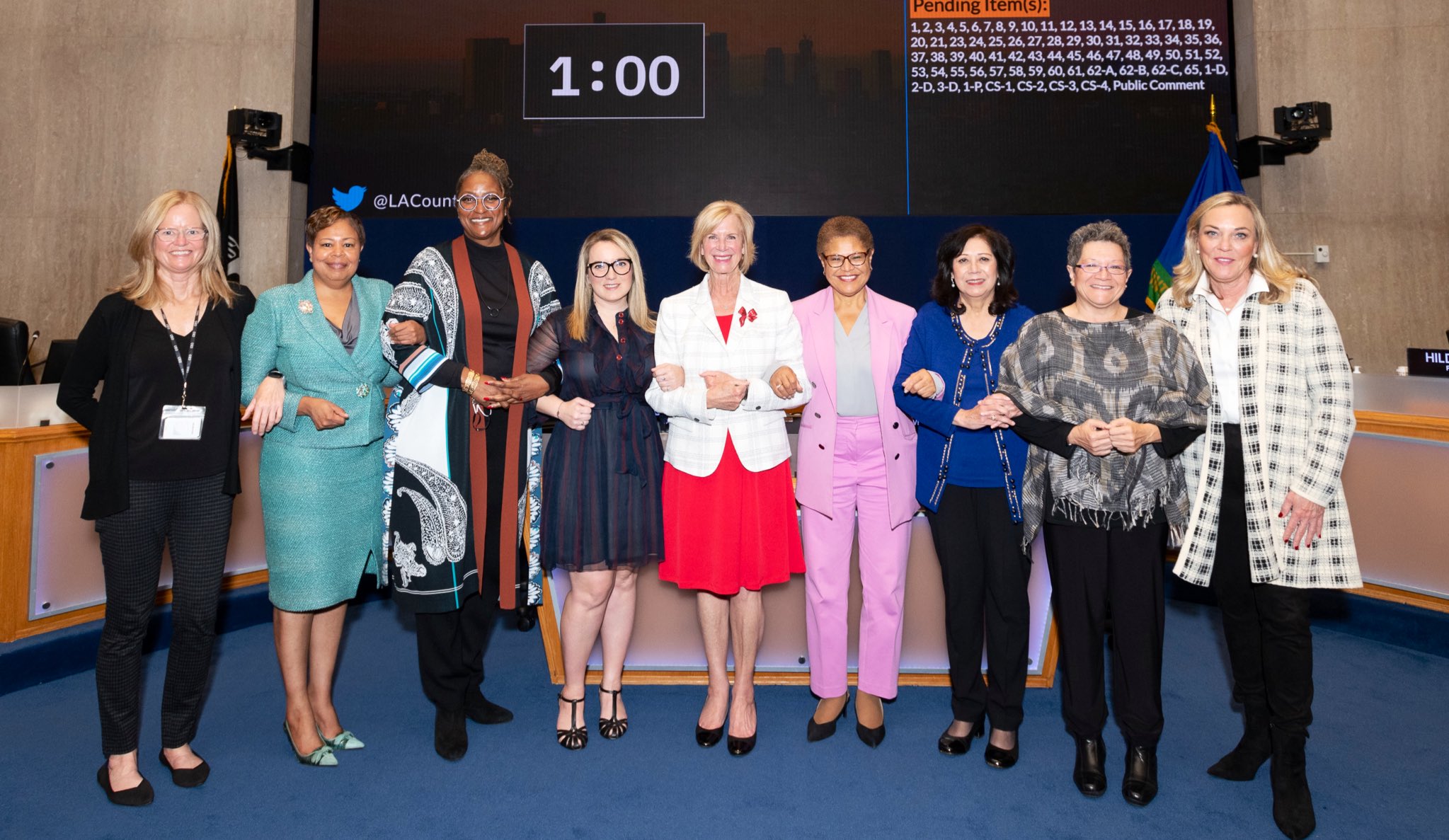 Los Angeles, CA — Today, the Los Angeles County Board of Supervisors voted unanimously to approve a proposal by Board Chair Janice Hahn and Supervisor Kathryn Barger to support the City of Los Angeles' Emergency Declaration on homelessness signed last week by Mayor Karen Bass and partner in the emergency response to the homelessness crisis.
"I think I share a feeling many people in LA are experiencing right now: a new sense of hope," said Chair Janice Hahn. "Not because any of these policies are a silver bullet to solving the homelessness crisis but because Mayor Bass' emergency declaration and this collaboration and partnership between the city and the county are bringing a renewed sense of urgency to a battle that we have been fighting for too long."
Mayor Bass joined this morning's Board of Supervisors meeting and spoke of the importance of the city and county working together to address the homelessness crisis.
"I am grateful to Chair Hahn and every member of the Board of Supervisors for passing this motion," said Mayor Bass after the item's passage. "Today's vote represents a sea change in how the County and City of Los Angeles will work together on homelessness. This crisis affects us all, and all of us must be a part of the solution, in every neighborhood and across every level of government. I look forward to continuing to lock arms with the County Board of Supervisors to save the lives of the unhoused and to make a difference in our neighborhoods."
The 2022 Los Angeles County Homeless Count counted a total of 69,144 people experiencing homelessness in the County, with nearly 42,000 people experiencing homelessness within the City of Los Angeles.
On December 12, Chair Janice Hahn joined Mayor Karen Bass at the City of Los Angeles Emergency Operations Center as she signed a declaration of a state of emergency on homelessness. The goal behind this declaration is to be able to approach the homelessness crisis as you would a natural disaster like a fire or flood that displaces tens of thousands of people from their homes by mobilizing resources more quickly to address the issue of homelessness and move housing projects forward without cumbersome red tape.
"Homelessness doesn't have boundaries, so we must have unity of effort if we want to make a significant change," said Supervisor Barger. "I appreciate Mayor Bass' efforts to focus the city of LA's resources so that it responds to homelessness with the urgency it merits. I'm committed to ensuring the County is connecting its services and has a seat at the city's problem-solving table—and that's what this motion will ensure. We're all in this together."
Chair Hahn and Supervisor Barger's motion, which was unanimously approved by the Board of Supervisors, officially proclaims the County's support for the City of Los Angeles' emergency declaration and takes the following concrete steps to establish a new city-county partnership:
Ensures representatives from the Los Angeles County Departments of Health Services, Public Social Services, Public Health, and Mental Health will join Mayor Bass and her leadership team at regular meetings to implement the state of emergency.
Identifies County staff who will work with City homeless outreach teams and at new interim housing sites to connect individuals with County services such as mental health counseling, substance use counseling, housing navigation, Medi-Cal enrollment, and domestic violence services.
Embeds the CEO of the County, Fesia Davenport, or a designee, as the second Deputy Incident Commander in the City of Los Angeles Incident Command at the City Emergency Operations Center. (Added to the motion by Hahn through a read-in revision during the meeting)