Hahn Marks One Year Anniversary of LA Found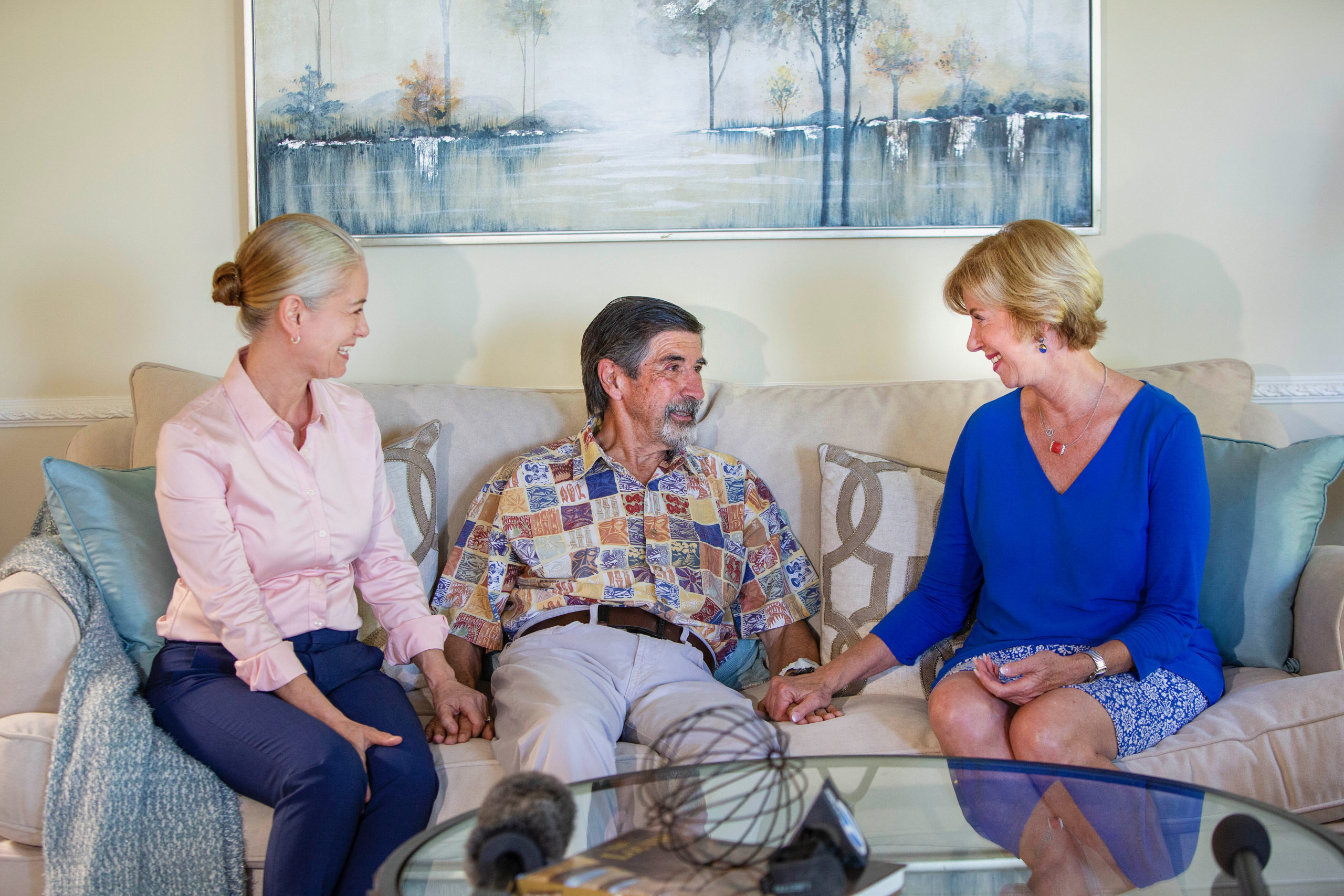 Rancho Palos Verdes, CA — Today, Supervisor Janice Hahn marked the one-year anniversary of the L.A. Found program by visiting Alex Vargas, a man with Alzheimer's who is one of 12 people who have been found safely using the program. With L.A. Found, LA County has distributed trackable wristbands to individuals with Alzheimer's, dementia, and autism so that they can be located if they wander away.
Wandering is a common problem associated with dementia, Alzheimer's, and autism. According to the Alzheimer's Association, 60% of people with dementia will wander at some point while a study by the Interactive Autism Network found that 49% of children with autism will engage in wandering behavior. While most of these individuals are recovered, wandering cases can end in tragedy.
Supervisor Hahn launched the L.A. Found in September 2018 with the goal of finding people who wander and reuniting them with their families. It uses a system of voluntary, trackable bracelets provided by LA County to individuals with Alzheimer's, autism, dementia, or another cognitive impairment that puts them at risk of wandering. Each bracelet corresponds with a unique radio frequency. When a person wearing a bracelet goes missing, the LA County Sheriff's Department Mental Evaluation Team can use a handheld receiver or receiver mounted on a helicopter to track the person's location.
Since the program launched, 12 people with bracelets have gone missing and all 12 were found safely using the LA Found program.
"I launched L.A. Found because I knew that we could find people, give families and caretakers some peace of mind, and ultimately save lives," said Supervisor Janice Hahn. "One year since it's launch, we have been able to reunite 12 missing people with their families and provide peace of mind to families and caretakers across the County."
The most recent save was of Alex Vargas. Alex is 75 and suffers from Alzheimer's and is one of 358 people enrolled in the L.A. Found program. On August 11, 2019, Alex wandered away from a home he and his wife, Rose, were staying at in Long Beach. The Sheriff's department was able to activate his trackable bracelet and locate him shortly after 2 am.
"Realizing your husband with Alzheimer's is missing from your home in the middle of the night was a terrifying experience for Rose," said Supervisor Hahn. "But I am so grateful that through the L.A. Found program we were able to find Alex quickly and reunite him with his wife. This program works. If you have loved one who suffers from Alzheimer's, dementia, or autism, I encourage you to learn more about L.A. Found and see if it is right for your family."
On the one-year anniversary of having launched L.A. Found, Supervisor Hahn went to the home of Alex and Rose Vargas in Rancho Palos Verdes with Kirk Moody. Kirk Moody's late-wife Nancy Paulikas disappearance in 2016 inspired the creation of the L.A. Found program.
"The LA Found Program has given our family piece of mind in knowing that someone will be there to help my husband should he need it," said Rose Vargas. "It is difficult, and honestly impossible to be attentive to a person 24/7. This is and has been our safety net. I helped find my husband when he wandered. We are forever grateful to all the individuals that were instrumental in developing this program!"
"LA Found is proving to be a tremendous benefit to at-risk adults and their caregivers in LA County," said Kirk Moody. "Supervisor Hahn and the board are to be commended for getting this program up and running in such a short time. We look forward to increasing the awareness of LA Found in the public's eye through additional interested entities – outside of county government – so that many more people can take advantage of it."
The L.A. Found program is available to residents Countywide through law enforcement partnerships with the LA County Sheriff's Department. If a person goes missing in a jurisdiction within the County not covered by the Sheriff's Department, the local law enforcement agency contacts the Sheriff's Department to activate the trackable wristband.
"To date, the entire LASD Mental Evaluation Team (34 field teams), LASD helicopter crews, and three Department Search & Rescue Teams have been trained in the use of locator equipment for Project Lifesaver – the technology used to locate missing persons who are participating in the L.A. Found program in LA County," said LA Sheriff's Department Lieutenant John Gannon. "LASD responds to help find missing persons in any of the 88 cities in the County when called upon 24 hours daily. Team members have had remarkable results in locating critical missing persons who were truly at risk due to wandering. We are certain several of our located patients may have otherwise suffered harm without the use of LA Found wristbands to find them. Two were in remote areas where they would not have otherwise been seen and at least one was lying down out of view, so traditional searches might have missed them. We highly support LA Found in the memory of Nancy Paulikas and the hope that no other family ever have to suffer like her husband Kirk. Our personnel have been inspired by Kirk and the leadership of Supervisor Hahn to bring this program to LA County, where it's truly making a difference and saving lives!"
The Sheriff's is aided through a partnership with Los Angeles County's Workforce Development, Aging and Community Services (WDACS) Department and their dedicated LA Found unit. WDACS was tasked with developing how LA Found can fit within the County and has worked closely with their law enforcement partners in developing the protocol, working with families, distributing the bracelets, and ensuring that families are linked up to all of the resources they can be linked up with. The collaboration has been so successful and unique that Project Lifesaver International asked that WDACS the LASD MET attend their annual conference, to provide an overview of LA FOUND, as well as share best practices and lessons learned with other cities and counties nationwide.
Caretakers of someone prone to wander should visit https://lafound.lacounty.gov/ for more information about the program and how to enroll in the program.