County Breaks Ground on Stormwater Capture Project under Adventure Park
South Whittier, CA — Today, with a storm on the way, Los Angeles County Supervisor Janice Hahn joined Los Angeles County Public Works Director Mark Pestrella and Los Angeles County Department of Parks and Recreation Director Norma Edith Garcia-Gonzalez to break ground on an innovative $41.2 million project to build a stormwater capture system under Adventure Park in South Whittier. The project is part of a countywide effort led by the Department of Public Works to capture, treat, and store rainwater and make our region more drought resilient.
"This winter has been one of our wettest in years and every time it rains, residents say they want to see us capture more of that stormwater and put it to good use," said Supervisor Janice Hahn. "You won't notice this project when it's done, but it is one of the project voters had in mind when they passed Measure W and will allow us to fortify our water supply and be better prepared for coming droughts."
The $41.2 million Adventure Park Multi-Benefit Stormwater Capture Project consists of a 6.4-million-gallon capture system almost entirely underneath the park that will capture, clean and conserve stormwater to improve water quality, reduce flooding, and increase regional water resiliency.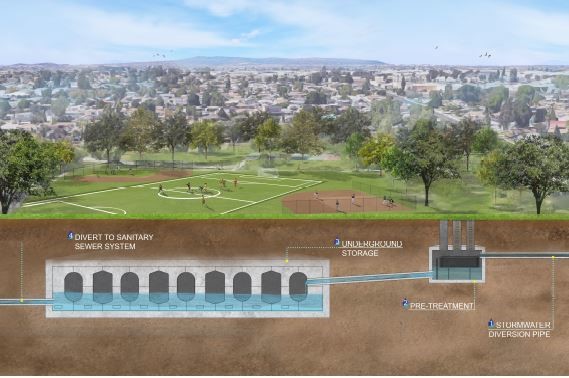 "Through the Safe Clean Water Program, we're systematically unpaving LA County to capture, clean and conserve more of our precious rainwater," said Public Works Director Mark Pestrella. "Within the next five years, we'll be able to capture another 18.5 billion gallons of stormwater a year. Enough to serve 500,000 people."
The project will also make investments in Adventure Park itself with improvements to park exercise equipment, walking paths, sports field, restrooms, and outdoor seating areas.
"I am proud that once again Parks can play a pivotal role in stormwater capture benefitting the unincorporated community of South Whittier. Adventure Park has truly become a multi-facilitated park, serving as a place for the community to come together above while aiding in drought relief," said Norma Edith García-González, Director of Los Angeles County Department of Parks and Recreation and the Regional Parks and Open Space District. "Our Department has always championed multi-benefit projects that support community and environment and with the groundbreaking of this project, we continue that pledge".
Much of Adventure Park will be closed during construction. At the groundbreaking Supervisor Hahn thanked South Whittier residents for their sacrifice so that the entire county could benefit from this project.
The project is funded through $16.5 million from the County's Safe, Clean Water Program via taxes collected through voter-passed Measure W, a $15 million grant from CalTrans, and $9.7 million in County Stormwater Capital Project funding.