Supervisor Hahn to Hold Gun Buyback in Artesia Saturday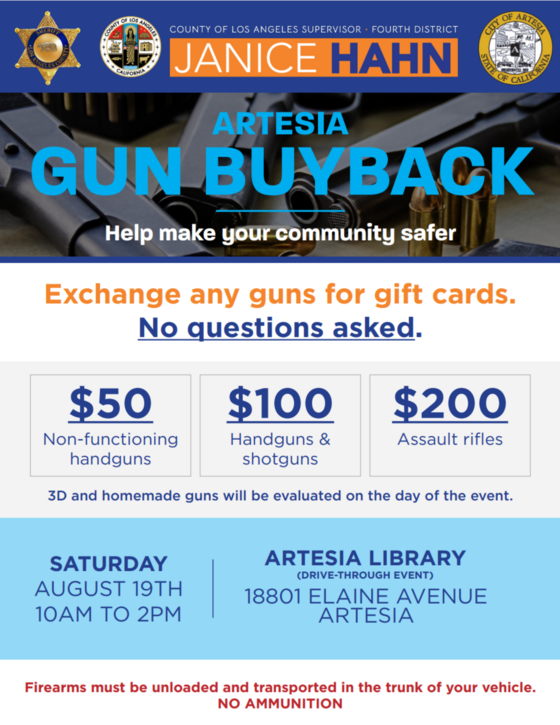 Artesia, CA—On Saturday, August 19, 2023, Chair of the Los Angeles County Board of Supervisors Janice Hahn will hold a gun buyback event in Artesia in collaboration with the Los Angeles County Sheriff's Department and the City of Artesia. The drive-thru event will be held from 10am to 2pm in the parking lot of the Artesia branch of the LA County Public Library at Artesia Park. It gives residents an opportunity to exchange any gun for gift cards, no questions asked. The event's location near the junction of the 91 and 605 freeways offers easy access for residents from across the Gateway Cites region.
"No one is safer with a gun in the home. It can be stolen and used in a crime, it can fall into the hands of children, it can discharge accidentally. We want to make it as easy as possible for residents to exchange guns they no longer want, and help keep their families and communities safe," said Hahn. "I'm glad to be able to bring this opportunity to Artesia."
The event marks the sixth gun buyback that Hahn has held since last May across her district. Altogether the events have collected over 1,120 guns.
There are important guidelines to participating in the buyback that ensure the safety of the public and LASD officers. Participants should not arrive on foot or transit, and should transport firearms unloaded and in the trunk of a vehicle.