LA County Search and Rescue Teams Prepare Rolling Hills Estates Homes Impacted by July Landslide Ahead of Hurricane Hilary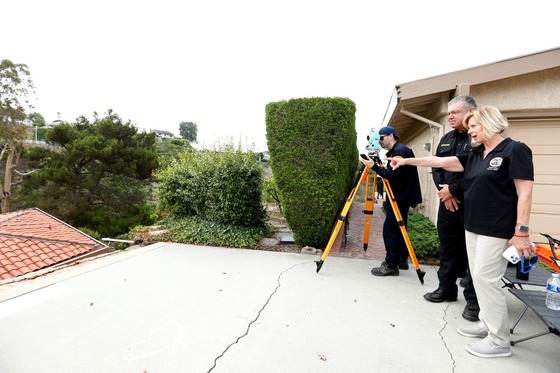 Rolling Hills Estates, CA — This morning, Chair of the Los Angeles County Board of Supervisors Janice Hahn visited the site of last month's land movement in the City of Rolling Hills Estates, where 10 homes were destroyed by a sudden shift in the hillside early last month. With Hurricane Hilary expected to bring rain and high winds to Southern California tomorrow and Monday, crews from the Los Angeles County Fire Department began a process of entering all 12 red-tagged homes.
"The County of Los Angeles Fire Department's specially trained urban search and rescue (USAR) team worked diligently throughout today to remove household hazardous products and personal items from red-tagged homes impacted by the land movement event that occurred in Rolling Hills Estates on Saturday, July 8, 2023," said Fire Chief Anthony C. Marrone. "I am grateful our USAR team was also able to use this opportunity to bring some comfort to affected residents by retrieving and ensuring cherished heirlooms, photos, and other mementos found their way home to families."
A total of 12 structures were red-tagged, including the 10 homes destroyed in the land movement and two others that have not moved but that are at risk. On July 8, residents were given 20 minutes to evacuate and have not reentered their homes since.
"These residents had just minutes to evacuate. They left behind family heirlooms, passports, birth certificates, treasured belongings. Today LA County is doing everything we can to try to help them recover some of those items," said Supervisor Janice Hahn. "They lost not only their belongings and their homes but the land itself. We hope that getting some important items back will really help as they continue the long process of recovering."
In addition to the personal belongings retrieved, the USAR teams were searching for and removing hazardous materials from homes, including cleaning products. With Hilary expected to bring heavy rain, those toxic substances could be washed out to sea, presenting a risk to beaches and marine life.
RHE Hilary
Structural engineers from LA County Public Works are also on site to help in the effort. They are continuously evaluating the site for land movement, ensuring that conditions remain safe before the USAR teams enter the structures.
"LA County Public Works has been supporting the City of Rolling Hills Estates as they assist their residents during this difficult time. Public Works is providing geotechnical and structural support to the LA County Fire USAR team to maximize safety as they retrieve household hazardous waste to prevent it from going into the ocean during the storm, and to retrieve irreplaceable items for the residents who have already lost so much," said Public Works Director Mark Pestrella, PE.
Representatives from the City of Rolling Hills Estates were also present, and have worked closely with the LA County Fire Department since the land movement.
"The City of Rolling Hills Estates is grateful to the Los Angeles County Fire Department Urban Search and Rescue Team for their recovery mission on Peartree Lane," said Rolling Hills Estates Mayor Britt Huff. "This operation to collect household hazardous waste from the homes was critical to protecting the environment ahead of the anticipated rain this weekend, and I know our residents appreciated the retrieval of some personal items as well. We also thank Supervisor Hahn and her office for the continuous support and dedication of County resources."