Hahn Opens 80-bed Interim Housing Site in Downey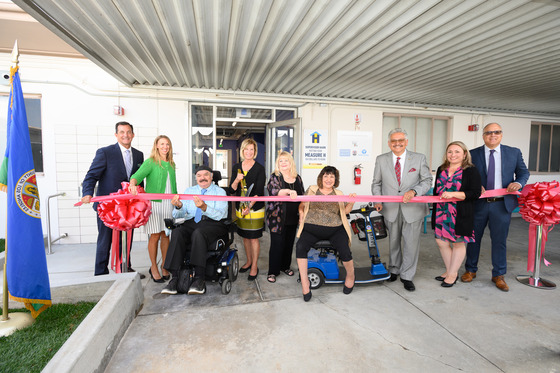 Downey, CA – On Wednesday, Los Angeles County Supervisor Janice Hahn opened The Hondo Center of Healing at Rancho Los Amigos, an 80-bed interim housing site on the campus of the Rancho Los Amigos National Rehabilitation Center. The dormitories will primarily serve unhoused patients of the LA County Department of Health Services through its Housing for Health program.
"Treating the patients in our care and then releasing them back out on the street with nowhere to go means putting their health in danger again. These 80 beds are really closing a critical loop in their healing process," said Hahn. "The need was there and the vacant County building was there. This is a model of how we can use existing properties to continue to bring unhoused people in."
The conversion of the building was paid for using funding from the American Rescue Plan and from Hahn's office. Its operation will be financed by funds generated from Measure H, approved by voters in 2016. Because the facility is in an existing vacant building, the construction took just six months.
"At LA Health Services our doctors and nurses understand that a patient's health and wellbeing often depend on our ability to care for them beyond our emergency rooms and hospital beds," said Doctor Christina Ghaly, Director, Los Angeles County Department of Health Services. "The Hondo Center of Healing at our Rancho Los Amigos Recuperative Care Center is an example of the innovative approach to patient care that we are taking in order to provide whole-person care to the most vulnerable amongst us; ensuring that this facility is now open and accessible to members of the surrounding community who require safe and immediate temporary housing to stabilize and recover."
Though administered by the Department of Health Services, it will be operated by Whittier First Day, a faith-based homeless services organization. Staff will help residents identify opportunities for permanent housing. Hahn hopes that the beds will also soon be available to unhoused people referred by the City of Downey from outside the hospital.
"The 80 beds being brought online represent safety, stability and hope for our neighbors experiencing homelessness in our local community. SPA 7 has gone far too long without having an adequate supply and availability of interim housing options. Today, our leadership and team at Whittier FirstDay, stand proudly by Supervisor Hahn, the County, the City of Downey and the Administration of the Rancho Los Amigos Hospital, as we bring online The Hondo Center for Healing demonstrating the real opportunities for positive impact made possible through Measure H," said Irene Muro, Executive Director of Whittier First Day, which will operate the site.
Rancho Los Amigos National Rehabilitation Center is a Los Angeles County Hospital dedicated to treating patients with a life-changing illness, injury, or disability. Rancho Los Amigos is recognized as an international leader in rehabilitation medicine and clinical research. As one of the largest rehabilitation hospitals in the United States, Rancho Los Amigos cares for approximately 2,500 unique inpatients each year, and services 75,000 outpatient visits each year.