Hahn Moves Forward with Plan to Create LGBTQ+ Community Resource Center in Whittier
Made possible with $4.2 Million in State Funding secured by Assemblymember Calderon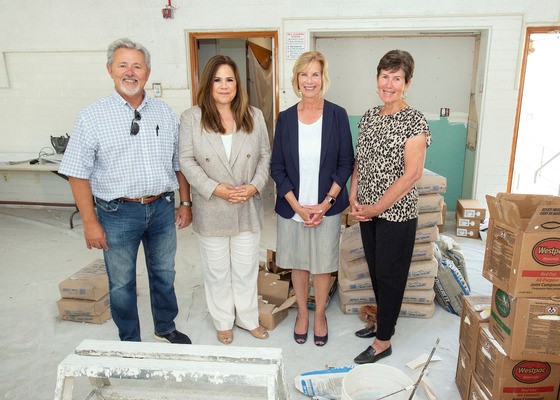 Los Angeles, CA –The Los Angeles County Board of Supervisors has unanimously approved a motion by Supervisor Janice Hahn to take the next steps in a plan to create a LGBTQ+ Community Resource Center in an empty County building in the City of Whittier.
"With this vote, we are one step closer to opening this important resource center, and I am grateful for the support we heard from community members and leaders at our meeting," said Chair Hahn, who represents Whittier and has championed this project. "At a time when hateful rhetoric about the LGBTQ+ community is louder than ever, a center like the one will serve as a lifeline for the community and provide better access to resources and support for anyone in need.  I'm especially thankful for Assemblymember Calderon's hard work to secure the state funding we needed to make this new center a reality."
With unanimous support for Hahn's motion, the board formally accepted a $4.2 million state grant secured by Assemblymember Lisa Calderon to fund the project and approved the partnership with the Los Angeles Centers for Alcohol and Drug Abuse to operate the new center.
"It is important to bring resources to my district that help our communities thrive. That is why I am pleased to partner with Los Angeles County Supervisor Janice Hahn to establish a new LGBTQ+ Center in Whittier," said Assemblymember Lisa Calderon,  representative for the state's 56th Assembly District. "I was thrilled to advocate for this project in the legislature, which will support the livelihoods of my constituents and individuals in the region through the creation of a safe and supportive space for all!"
The center will be established in an existing LA County building at 7639 Painter Avenue in the city of Whittier.  The property, which already belongs to the County and has sat empty since the beginning of the COVID-19 pandemic, consists of a single-story building of approximately 2,694 square feet and a surface parking lot.
Supervisor Hahn and Assemblymember Calderon hopes to open the center in early 2024 with plans to provide the following services:
• Information and Referral Services: Advocacy and referrals to trusted resources tailored specifically for LGBTQIA+ individuals seeking various types of support.
• Support Groups: Offer peer groups for distinct segments of the LGBTQIA+ community, including transgender and non-binary individuals, LGBTQIA+ youth, families with LGBTQIA+ children, and LGBTQIA+ individuals of color.
• Substance Use Disorder Treatment: Provide evidence-based practices for individuals counseling, individual therapy, group education and therapy, family therapy, and care coordination, along with service navigation and advocacy.
• Mental Health Treatment: Access to licensed mental health professionals experienced in addressing LGBTQIA+ specific issues, such as coming out, family rejection, and gender identity, providing both crisis management and ongoing treatment options.
• Legal Assistance: Guidance and service navigation for legal issues including discrimination, immigration, name and gender marker changes, family law.
• Youth Programs: Offer age-appropriate support and programs for LGBTQIA+ youth, including mentorship, peer support, and empowering socials events.
• Educational Workshops: Offer educational workshops on a variety of LGBTQIA+ topics, such as allyship, mental health, sexual health.
• Health and Wellness Programs: Promote physical, mental, and emotional wellbeing through activities like yoga, meditation, and exercise classes.
• Social Events and Networking: Host center events that foster community building, such as movie nights, game nights, mixers.
• Cultural Programs: Highlight LGBTQIA+ art, literature, cinema, and history with exhibits, performances, and discussions.
• Community Outreach: Partnership initiatives with local schools, businesses, and faith communities to raise awareness and promote inclusion for LGBTQIA+ individuals.
• Volunteer Opportunities: Create avenues for community members to support and get involved in the Center's programs and services.
• Advocacy: Collaborate with other organizations to advocate for LGBTQIA+ rights and policy changes at local, state, and national levels.