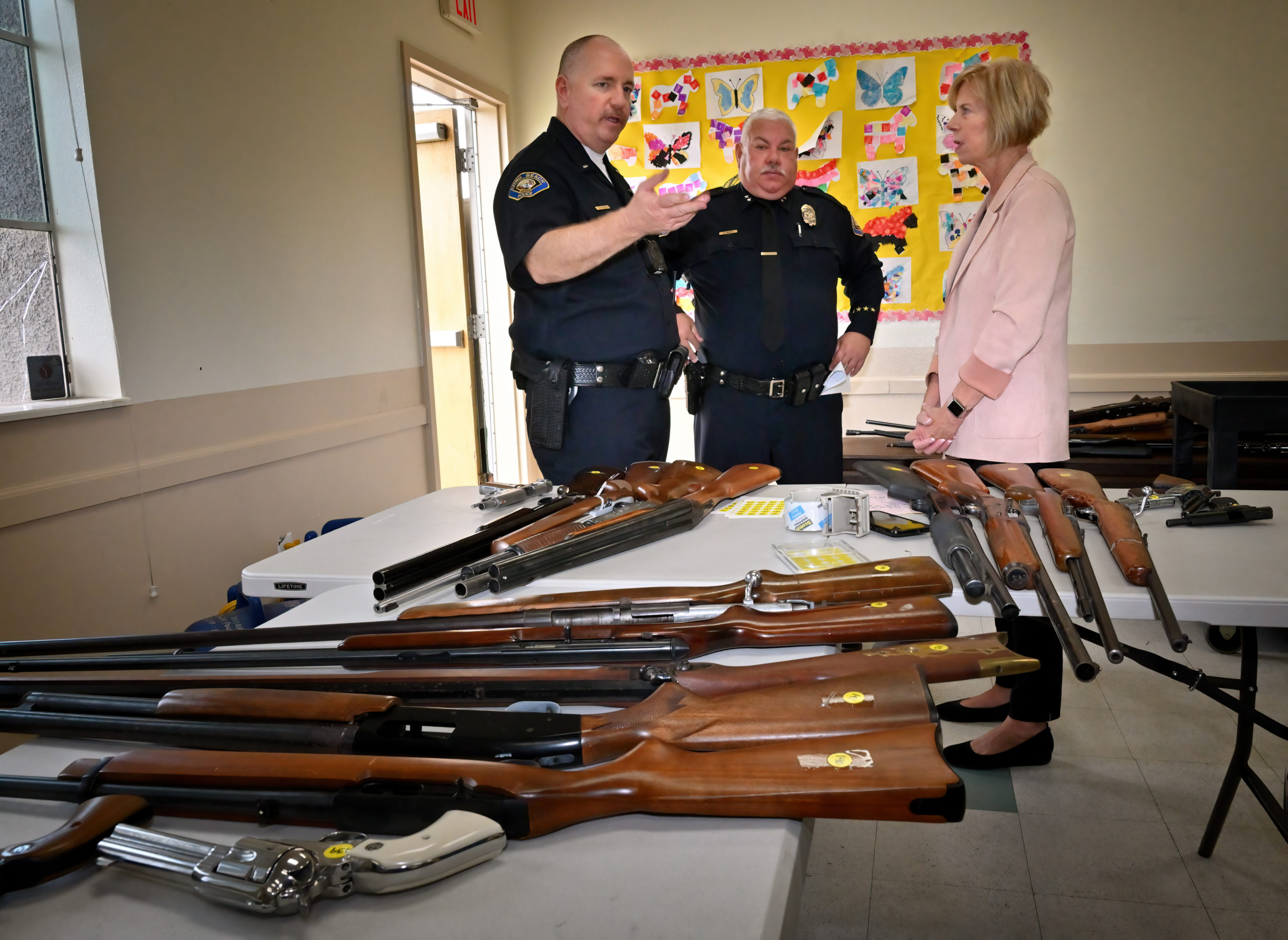 Curbing the epidemic of rising gun violence in LA County and across the nation is an issue of extreme importance to Supervisor Hahn.
Since her time in Congress, the Supervisor has been a staunch supporter of efforts to reduce the number of high-powered weapons of war on our streets. Now, as Supervisor, she has made it a priority to play her part in passing common-sense gun regulations in the areas over which she holds purview, as well as getting as many guns off of the street in the Fourth District as possible.
Strengthening LA County's Gun Regulations
On February 7, 2023, the Board of Supervisors unanimously approved Supervisor Hahn's motion establishing ordinances to enhance gun regulation in LA County. These include:
Banning the sale of .50 guns and ammunition in unincorporated LA County.
Prohibiting anyone who is not law enforcement or active military from carrying firearms on LA County property including our beaches, parks, playgrounds, and County buildings.
Writing an ordinance to establish a 1,000 foot buffer zone in unincorporated areas between gun stores and areas where children gather, like schools, parks, and daycares.
Writing new regulations to make gun dealers in unincorporated areas follow common sense rules — things like bans on minors in gun stores, requirements for inventory/fingerprint laws, security cameras, and more.
Getting Guns off the Streets
Tackling gun violence takes solutions at all different levels. In addition to enacting common sense regulations on the type and prevalence of guns, Supervisor Hahn has also made it a priority to get as many guns off of our streets as possible.
To that end, the Supervisor has hosted a number of gun buy-backs in locations across the Fourth District. They include:
One in Lynwood with LASD – 265 guns turned in
Another in Long Beach with LPBD – 252 guns turned in
One last November with LASD in Norwalk – 120 guns turned in
The Supervisor's next gun buy-back will take place on Saturday, March 4th at the Wilmington Chamber of Commerce. It will be from 8AM to 1PM and is going to be hosted in partnership with LAPD. For more information, click here.
Supporting Federal Gun Legislation
Lastly, Supervisor Hahn and her colleagues on the Board of Supervisors are continuing to advocate for changes on gun policy at the federal level. In addition to their vote to pass more gun regulations here at home, on February 7th, 2023 the Board also voted to send LA County's support for federal legislation reinstating the assault weapons ban.
We saw how well this ban worked in the decade it was in effect. In the face of rising gun violence and mass shootings, reinstating it is critical to the safety of Americans everywhere.