Supervisor Janice Hahn Opens New Aquatic Center in West Whittier- Los Nietos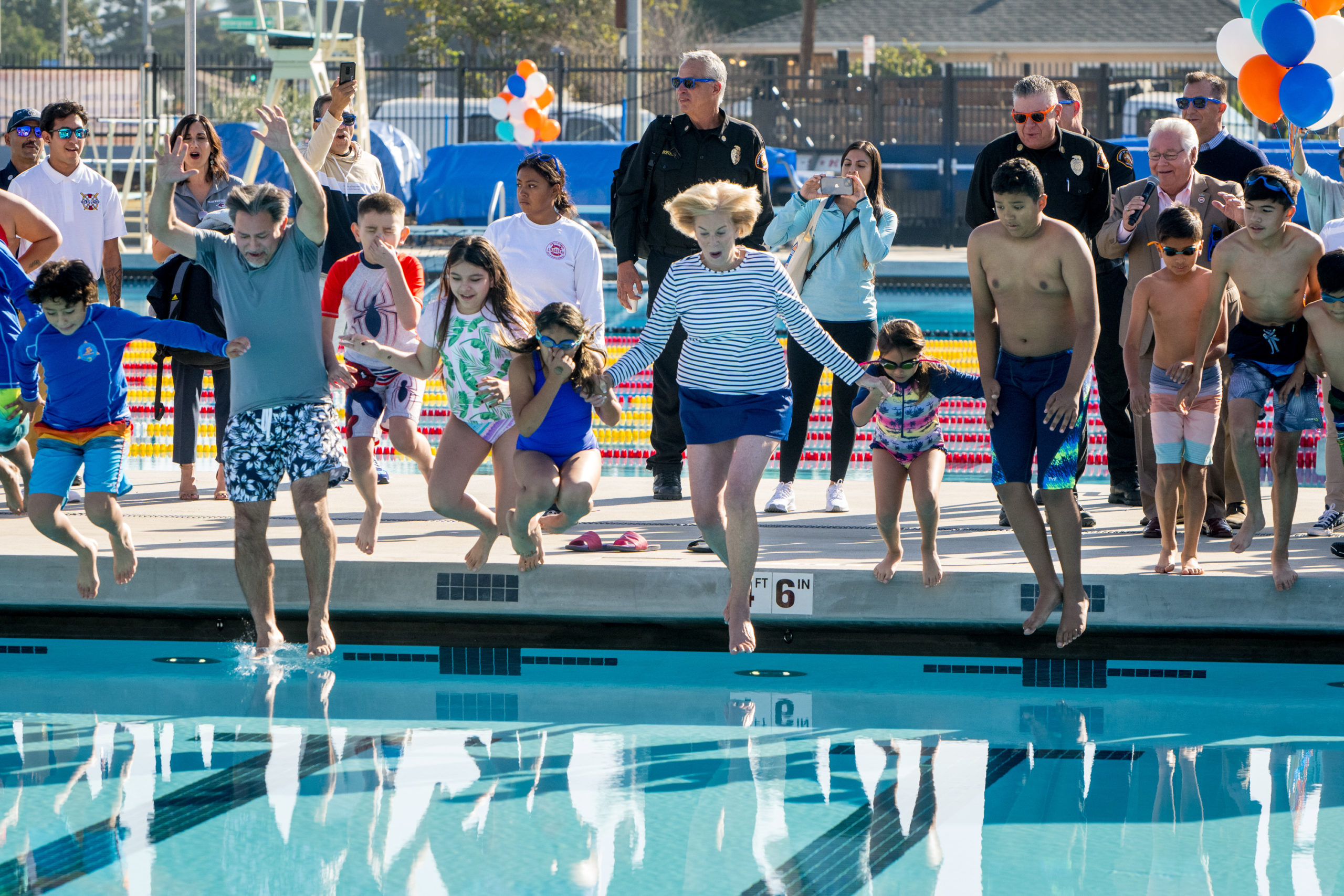 Unincorporated West Whittier, CA – On Saturday, October 29, 2022, Los Angeles County Supervisor Janice Hahn held a community Grand Opening celebration for the new Greater Whittier Regional Aquatic Center. The new public aquatic center, which was spearheaded by Hahn and made possible with $26M in funding allocated by her office, is in the unincorporated West Whittier-Los Nietos community on what was formerly a parking lot for Pioneer High School. It is be operated by the Los Angeles County Department of Parks and Recreation and open to the public six-days-a-week year-round.
"Public pools are so important for neighborhoods," said Supervisor Janice Hahn. "And this one is state-of-the-art. Kids are going to learn to swim here, seniors and people of all ages can exercise, and the entire community will be able to cool off on a hot day. The West Whittier-Los Nietos community has been looking forward to this for a long time and it was great to be able to welcome them here today."
The Greater Whittier Regional Aquatic Center is the only competitive-level aquatic center within seven miles of this community. It features two pools (a 50-meter by 25-yard competitive swimming pool and a 25-meter by 25-yard practice swimming pool), concrete bleachers for approximately 500 spectators, and a new building with changing rooms, showers, restrooms, and classrooms. The building also features a beautiful mosaic, commissioned by the Civic Art Division of the LA County Department of Arts and Culture, by Rebeca Mendez titled "Underwater Sunlight," which covers the ceiling of the center and resembles the surface of a pool as seen from underwater. Outside the aquatic center is a new public park space with workout equipment and a playground.
"We are so excited to have partnered with Supervisor Janice Hahn to create this beautiful facility for Los Nietos and West Whittier residents," said Dr. Russell Castañeda Calleros, President of the Whittier Union High School District Board of Trustees, which allowed the Aquatic Center to be built on a former parking lot of Pioneer High School. "We look forward to the many benefits and opportunities that this center will provide to our students, families, District and community."
The aquatic center is open Monday through Friday from 6:00am to 8:00pm and on Saturdays from 8:00am to 4:00pm. Programming will include swim lessons for all ages, swim team, aqua aerobics, water polo, lap swim, and "Everybody Swims" hours on Saturdays. Find the full schedule here.
Starting in January, people interested in becoming pool lifeguards will be able to enroll in Lifeguard Ready Training at the aquatic center. Saturday's all-day grand opening celebration also included lifeguard tryouts for members of the Pioneer High School Water Polo Team and other interested young people.
"We have been excited for this long-anticipated launch of the Greater Whittier Regional Aquatic Center, a state-of-the-art aquatic facility serving the residents of Whittier and the surrounding communities in an area that has traditionally been underserved in aquatic programming," said Norma Edith García-Gonzalez, the Director of the Los Angeles County Department of Parks and Recreation and the Los Angeles County Regional Park and Open Space District. "Additionally, the Department is proud to partner with the Whittier Union High School District to promote youth job creation by developing a lifeguard training program through our Lifeguard Ready Training Program. The Greater Whittier Aquatic Center was made a reality thanks to a $5.5 million award in Proposition A funds from the Los Angeles County Regional Park and Open Space District (RPOSD)."
Both pools are equipped with the AngelEye drowning detection system which features underwater cameras along the perimeter of the pools and pool deck cameras that monitor movement in the water and will alert lifeguards in the event of an emergency.
"Investments in public infrastructure—like this aquatic center—create jobs, improve public health and connect residents to vital County resources and services," said Mark Pestrella, Director of Los Angeles County Public Works. "More than 57% of the workers on this project were hired locally, and we're so proud to be able to bring those dollars back to the community of Whitter-Los Nietos."
The Greater Whittier Regional Aquatic Center was made possible with funding allocated by Supervisor Hahn –$17.9 million of Measure U, $5.5 million of Proposition A excess funds through the Regional Park and Open Space District, $3.1 million in Proposition 62 funding– and a $3 million State Parks Competitive grant.